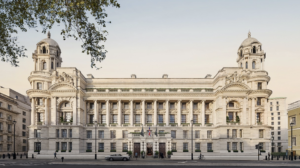 Delve deep into London's rich tapestry of history and luxury with the unveiling of the Raffles Hotel London, a fusion of timeless elegance and contemporary luxury. Set in the iconic Grade II* listed Old War Office on Whitehall, the hotel breathes new life into a landmark that has stood as a witness to pivotal moments in British history.
A Grand Reveal
After a meticulous seven-year renovation that saw an investment of a whopping £1.4 billion ($1.76 billion), the wait is finally over. The Raffles Hotel London is poised to open its majestic doors on September 29, 2023, making it one of the most eagerly anticipated hotel launches this year.
Unparalleled Luxury and Space
The sprawling establishment boasts 120 exquisitely designed rooms and suites. But that's not all; there are also 85 expansive private residences, christened 'The OWO Residences by Raffles,' offering the epitome of opulence and privacy.
Culinary Wonders Await
For the gastronomes, the hotel is a dream come true. With nine top-tier restaurants, including the much-talked-about Cafe Lapérouse of Parisian fame, and three bespoke bars, every meal promises to be a journey of flavors and experiences.
Drenched in History
The Old War Office, in its earlier avatar, has been the silent observer of strategies that altered world history. The walls of this Edwardian baroque masterpiece reverberated with discussions of military masterminds during the World Wars. It's where the strategies for monumental operations like D-Day were deliberated upon. The corridors have been graced by the likes of Winston Churchill and T. E. Lawrence, to name a few.
Suite Dreams in Churchill's Chambers
Imagine spending a night in the very room where Winston Churchill once strategized Britain's wartime operations! This dream can now be a reality, albeit for a sum of £25,000 a night. The Raffles Suite, with its two bedrooms, not only offers luxury but also mesmerizing city views that can steal your breath away.
In Conclusion
The Raffles Hotel London isn't just a hotel; it's a magnificent blend of history, luxury, and unparalleled experiences. Whether you're a history aficionado, a lover of luxury, or a culinary enthusiast, this hotel promises an experience like no other.
*Meta Description:* Dive into London's opulence and history with the grand unveiling of Raffles Hotel, set in the historic Old War Office. Experience luxury like never before.
We're looking forward to checking this new London hotel out, will you be visiting?