Our Travel Services
Discover the zenith of high-end travel experiences with The Luxury Storyteller, a global leader in the world of luxury travel companies. Our bespoke travel services are synonymous with extravagance, sophistication, and meticulous attention to detail. Providing an unparalleled journey that will forever change your perception of travel is not just our promise, it is our unwavering commitment
We specialise in curating and delivering meticulously tailored luxury holidays. Our team of seasoned travel experts and concierges are committed to designing the finest customized itineraries. We believe that each traveler is unique, and thus your travel experience should reflect your individual preferences, interests, and luxury aspirations.
Our content packages
Experience the power of compelling visuals with The LuxuryStoryteller's professional hotel photography and videography services. Our expert team captures the essence of your property, creating a captivating visual narrative that enhances your online presence.
Travel writing
Entrust The Luxury Storyteller as your guide to the world of luxury travel. Discover destinations unseen, experience luxury unimagined, and let the narratives inspire your next grand adventure. Welcome to the world through the lens of a luxury travel writer, where every journey is a tale waiting to be told
Elevate Your Business with the Best  Social Media Services
Are you looking for the best social media services to take your business to the next level? Look no further than The Luxury Storyteller.
With our cutting-edge strategies and expert team, we're the top choice for businesses looking to make an impact in the digital world.
What sets us apart from the competition? We don't just post content and hope for the best. Our team takes a data-driven approach to social media, using analytics and insights to create content that resonates with your target audience. We work closely with our clients to understand their brand voice and messaging, ensuring that every post aligns with their goals and values.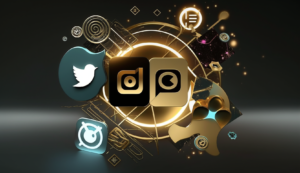 Our services include:
Social media management: We handle all aspects of your social media presence, from content creation to community management.
Paid social advertising: We create and manage high-performing social media advertising campaigns that drive results.
Influencer marketing: We help you identify and partner with the right influencers to reach your target audience.
Social media audits: We conduct in-depth audits of your social media channels to identify areas for improvement and opportunities for growth.
Our results speak for themselves. We've helped businesses across a range of industries increase their social media following, engagement, and conversions. Whether you're looking to build brand awareness, drive traffic to your website, or boost sales, we have the expertise to help you achieve your goals.
Don't settle for mediocre social media results. Choose The Luxury Storyteller and take your business to new heights. Contact us today to learn more about our services and how we can help you succeed in the digital world.