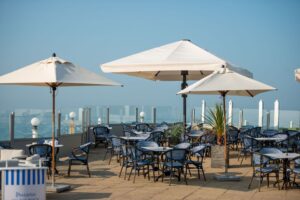 Are you daydreaming about the perfect seaside escape? Picture yourself amidst elegance, comfort, and undeniable charm as you gaze out at the azure waves rolling gently onto a private beach. If this is your idea of paradise, then the Cooden Beach Retreat is your ticket to coastal bliss. Nestled in the heart of Bexhill on Sea, East Sussex, this resort is a hidden gem waiting to be discovered.
Cooden Beach Retreat is more than just another seaside hotel; it's a living testament to history and an embodiment of modern luxury. Step into a world where the past mingles gracefully with the present. This enchanting haven traces its roots back to 1928, an era when Bexhill was undergoing a transformation under the vision of the 8th Earl De La Warr. The hotel has borne witness to royal visits, thrilling motor-sporting events, and the architectural renaissance that gave birth to the iconic De La Warr Pavilion.
Today, under the stewardship of Grace Leo, a visionary international hotelier, Cooden Beach Retreat has evolved into a stylish and contemporary resort, proudly anchoring itself as one of the Relais Retreats, a brand known for waterfront excellence. Each step within the hotel exudes sophistication, from the sleek, spacious rooms that offer breathtaking sea views to the beachfront restaurant, a gastronomic haven where fresh, seasonal seafood is the star. You'll also discover a wellness center, a sanctuary for rejuvenation, and a lively bar and grill, paying homage to the hotel's illustrious motor-sporting history.
Cooden Beach Retreat isn't just a place; it's an experience—a gateway to savoring the serene beauty of the Sussex coast. Imagine your mornings with the sun-kissed sands of a private beach at your doorstep, your afternoons lost in the uninterrupted vistas of the English Channel, and your evenings immersed in the vibrant coastal culture. The hotel's strategic location, just an hour and fifty minutes away from London by train, makes it an accessible escape for those seeking respite from the bustling city life.
Whether you yearn for the playful vibes of a beach club in the summer or the cozy embrace of a retreat in the winter, Cooden Beach Retreat caters to your every whim. It's a place where you're not just a guest; you're part of a narrative that has been unfolding for nearly a century. Here, you'll feel at home, no matter where you've come from.
Your coastal sanctuary awaits, and it's calling your name The East Sussex Coast is a beautiful part of England, I'm fortunate enough to have family nearby so will be popping in here very soon!
Villa Copenhagen – A Sustainable and Luxurious Stay in the Heart of Copenhagen